Below is the press release for the Outland Trophy Watch List and Polys listed below.
2006 OUTLAND TROPHY WATCH LIST ANNOUNCED
DALLAS (FWAA) – The Football Writers Association of America has announced the 2006 Outland Trophy Watch List. Fifty-four standout linemen from around the country have been nominated for consideration in the preseason.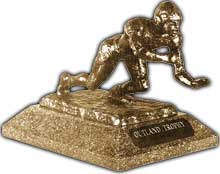 The Outland Trophy has been awarded to the best offensive or defensive lineman in college football since 1946. The winner is selected by the FWAA's All-America Committee, which selects the association's 25-man team and picks three Outland Trophy finalists.
The 2005 Outland Trophy announcement will be on Dec. 7 in Orlando, Fla., on the ESPN Home Depot College Football Awards Show. The Outland Trophy presentation banquet, sponsored by the Greater Omaha Sports Committee and First Data Corporation, is set for Jan. 11, 2007, in Omaha, Neb.
Minnesota center Greg Eslinger won the 2005 Outland Trophy. He was the third player from Minnesota to win the award after Tom Brown (1960) and Bobby Bell (1962). He is only the third center to claim major-college football's third-oldest award.
The Outland Trophy has been awarded annually by the FWAA since 1946. It is named after the late John Outland, a lineman at Pennsylvania at the turn of the century.
Nebraska has more Outland Trophy winners than another school. Seven Cornhuskers have claimed the trophy, with Nebraska center Dave Rimington being the only player to win it twice (in 1981 and '82).
Additional Outland Trophy candidates may be added during the course of the season. Tackles, guards and centers are eligible for consideration.
Samoans, Tongans, Hawaiians listed below
Howie Fuimaono
(UNLV): Older brother of Rebel recruit
Starr Fuimaono
.
Howie is a 2 year starter and earned all MWC Honorable Mention and was named team's Defensive MVP in 2005.
Jake Kuresa
(BYU): Was named Second Team All MWC in 2005. Has started for the Cougars the last 3 years.
Enoka Lucas
(Oregon): The former Kamehameha Schools (Kapalama Campus) graduate was a 2005 All PAC-10 Second Team selection. Has started since his sophomore year. Lucas starts at center alongside Kahuku graduate
Palauni Ma Sun
and Hawaii Preparatory Academy graduate
Max Unger
.
Jeremy Perry
(Oregon State): The former Kahuku HS standout was seleced All PAC-10 Honorable Mention as redshirt freshman and was Co-Freshman of the Year in the conference. Perry was also selected
Sporting News
and
College Football News
Freshman All American. He is coached by former UH Offensive Line Coach Mike Cavanaugh.
Samson Satele
(Hawai'i): 1st Team All WAC as a guard in 2005 and will play Center in 2006. Was selected 2nd Team All WAC as a sophomore and freshman. Satele will start alongside
Tala Esera
(LT) and
Dane Uperesa
(RT) and perhaps his cousin
Hercules Satele
at left guard.
Satele has also been selected to the Watch List for the
Dave Rimington Trophy
for the nation's top Center.
Kelly Talavou
(Utah): Started all 12 games as a junior after transferring from Idaho. Older brother of Arizona State Offensive Lineman
Leo Talavou
. Talavou will be backed up at Defensive Tackle by
Kenape Eliapo
and JC transfer
Aaron Tonga
.
Shannon Tevaga
(UCLA): All PAC-10 Honorable Mention in 2005. He has started since his freshman season in Westwood and will be joined in 2006 by younger brother
Shannon Tevaga
. The Tevaga brothers recently attended the
AIGA Foundation Long Beach CC Combine
(See link for picture).
Tavo Tupola
(Utah): The former Kahuku HS standout has been a starter for the last 3 seasons following an LDS mission to Tucson (AZ). Tupola was 2nd Team All MWC in 2005.
Jeremy Inferrera
a transfer from the University of Hawai'i and St Louis HS (Honolulu) will back up Tupola at Left Tackle.