By Michael C. Wright
ESPNChicago.com
Archive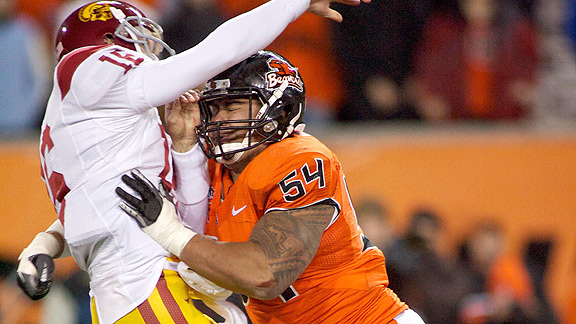 Craig Mitchelldyer/US PresswireStephen Paea said, once off-field issues are settled, he'll be a monster on Sundays.
Likely borne from centuries of boredom living in sheer beauty, for little girls on the Tongan islands the art of juggling comes as naturally there as Barbie dolls, jacks and hopscotch for young girls in America.
Having grown up on Vava'u, Tonga,
Chicago Bears
rookie defensive tackle
Stephen Paea
heard the word for the first time recently.
"I'm sorry, I don't know the word: juggle," Paea said.
Yet it's exactly what his mother, Ana, did with unshakeable faith, tireless work ethic and navigation of distance in nurturing Stephen and his three brothers (Matahi, twin Will and Pora) throughout their journey to this country for a taste of the American dream. It's also the example Stephen plans to follow by signing his NFL contract and eventually enabling the retirement of Ana and his father Peniamina (everyone calls him Ben), while finally bringing the entire family -- which is scattered between California, Oregon and American Samoa -- together in one place.
Interestingly, most schoolgirls in Tonga are taught to juggle (boys aren't taught). Not just three items in simple patterns, more like four or more intricately tossed about. Explanations for the pastime vary from folklore to a method for time passage on Tonga, comprised of 176 islands in the South Pacific.
Either way, the children's game, called "hiko" by Tongans, has served the family probably more than it realizes.
Stephen chuckles, but acknowledges truth in that assertion after finally hearing the definition of the word juggle.
"Oh [laughing], yes, my mom can do that," Stephen said. "They do that on the islands. It's just something they find to kill the time because, man, if you go to Tonga, it's boring. You can find all the priceless stuff, like the beach, nice places, going somewhere quiet and all that. But being there, living your life there, there's nothing. I don't know how a parent could do all that [juggling] my mother did for her four sons, especially moving from somewhere like that to go to America, the land of opportunity. She's just a hard worker and I love her for that. The only source of income we had came from my mom. She just worked her butt off 24/7, and for some reason, we made it through."
Journey to America
Making it definitely wasn't easy. It's still a struggle every day to navigate the real-life version of "hiko," Ana said.
"It's very true that a lot of things that have happened in my life -- especially trying to handle a lot of things -- is just like the hiko you're talking about," Ana said. "But I still haven't mastered the juggling of my life here in America. I've just taken it one day at a time, and it seems like I was doing the right thing when we first came here. I kept doing it."
"

To be able to retire both my parents, get my sister from Tonga to here, and all of these things, it's gonna make me a happy a person. Then I'll be able to perform even better on the field. When the off-field issues are taken care of, I'm a monster on the field.


"

-- Stephen Paea
Looking to enhance educational opportunities for their sons, Ben and Ana made the decision in 2003 to bring the boys to America. Ben was initially skeptical, leery of limited job prospects. Ana figured, "If this is in the hands of God, he will find a way for us to move on," and made the trip to America first in November 2003 to prepare for the family's arrival.
Two weeks after arriving, Ana found work as an in-home caretaker for an elderly woman in the Bay Area of California. The job -- which she's held for eight years -- was tailor-made for the family's needs at the time. Because she could live rent free, Ana was able to save virtually every penny of her salary to send for those still waiting in Tonga.
The next summer, the boys touched down in San Francisco International Airport. Stephen and Will were 16. At the time, movies had shaped most of their impressions about life in America.
At least that's how it played out in baggage claim.
"I had my mom's phone number. We didn't have a cell phone, and we tried to look for a pay phone because that's what we saw in the movies," Stephen Paea said. "So what we did was we walked by security guys and cops, looked at them and just said, 'Call mom?' That's all I knew how to say in English. Then, I would point at the phone number. We were just nervous. It was a big city, big airport. Everything was new to us."
Eventually, the boys contacted Ana, and the family took a four-day trip on a Greyhound bus to Lawrence, Kan., where it would settle for a year. Ana spent a month in Kansas using the money she'd saved to set up living arrangements and school enrollment. The boys would live with older brother Matahi (6-foot-4, nearly 400 pounds and nicknamed Big Ben), who was 25 at the time and had already spent time in America living with friends and working. Ana -- still working in California -- would foot the bill for her sons' rent, food and other necessities that first year.
Their father stayed behind in Tonga operating the family business, transporting crates of fish and fresh produce for school lunches in Samoa.
Lawrence High School gave Stephen and Will their first introduction to American football.
"When they were in Kansas and the coach was trying to tell Stephen what to do, he would look at Ben and he would tell Stephen in Tongan what to do," Ana said. "They understood English a little, but it was different without the accent. It was hard to understand for them at first, and Metahi played a big role in interpreting."
Stephen still holds the bench-press record (330 pounds) at Lawrence High but was never fully indoctrinated into American football because the family moved the next year to Provo, Utah.
The distance from California to Kansas had become too much for Ana to bear.
"I just missed them. When I would ask for a week vacation, I would only get to see them for five days because it took two days to travel," Ana said. "That's the reason I wanted them to come from Kansas."
Rugby to football
Brought to Tonga in the early 1900s by sailors and missionaries, rugby is the country's national pastime, with other sports lagging behind significantly in terms of interest.
While his family pondered a move to America from Tonga, Stephen, then 16, eyed a professional rugby career. On weekends, Stephen and Will snuck out of the house to catch rugby matches, dreaming of one day becoming stars in the sport. If the journey to America hadn't panned out, Plan B was to enroll at an all-boys school in New Zealand, where they would concentrate on their studies and rugby.
Had Stephen maintained course with rugby, there was a chance he could've gone professional at 17. The strength he displayed in setting an NFL combine record 49 bench-press reps in February was apparent even back then. So was Stephen's speed and explosiveness, which made him virtually unstoppable.
"Stephen was very good, the biggest guy on our [rugby] team," said Will, six minutes younger than his twin and approximately 80 pounds lighter. "Nobody could tackle him. Nobody wanted to run at him. He pretty much took up wherever he was. The other team never had success where he was. So they would run or pass the ball away from him. When Stephen ran with the ball, he carried people on his back. We won championships our first year, then we came to the States."
Football wasn't as easy.
The addition of football padding made Stephen uncomfortable because it diminished flexibility, "but what got me was the helmet because it minimizes peripheral vision," he said. Admittedly, he "played scared" at first, worried he'd take a shot in the gut or be leveled by a blind side collision because of the peripheral vision loss.
Physically, he possessed the requisite tools -- speed, power, explosiveness -- to succeed in football. But after only a brief introduction to the sport in Lawrence, Stephen couldn't harness them.
Once fully immersed at Timpview High School in Provo, Stephen quickly made strides.
"When I first started playing, I would always run past the quarterback. If I counted how many times I ran by the quarterback, I probably could've gotten at least 25 or 30 sacks," Stephen said, laughing. "I didn't know that right when I beat that O-lineman two yards deep in the backfield, I've got to be sure where the quarterback is going. I would just run straight to where he was standing and all he'd have to do is step forward and I'd miss him by a couple of inches."
Eventually, Stephen earned a juco scholarship to Snow College in Ephraim, Utah. Despite Stephen spending a year at Snow as a backup, Oregon State -- wowed by the defensive tackle's raw talent -- took a chance.
He rewarded the Beavers with 37 starts in 38 career games and racked up 129 tackles, in addition to 14 sacks from the 3-technique defensive tackle position. Chicago selected Stephen with the 53rd overall pick (second round) in April, and despite spending limited time at Halas Hall for draft introductions, the defensive tackle already knows a good portion of the Bears' scheme.
In the two or three hours Stephen spent at the team's facilities, he jotted down the "two fronts and 20 plays or so they were teaching me."
"Just a unique guy for us," said Tim Ruskell, Bears director of player personnel. "His effort level and his passion for the game, it was kind of a no-brainer for us."
A family's dream deferred
Based on the rookie slotting system -- which will likely come to an end after 2011 -- Stephen should receive a contract from the Bears worth approximately $2 million guaranteed, more than enough to fund the family's ultimate dream of bringing everyone to the States at one central location.
Living with younger brother, Pora, and their grandmother, Will just finished up a semester at Foothill College in Los Altos Hills, Calif., and awaits full U.S. citizenship. Ana continues working as a caretaker. Her husband still huffs it back and forth between Tonga and Samoa with Stephen's sister, Ramona, 35, now assisting in the family business as the pair hopes for work visas in the U.S.
Stephen, meanwhile, lives in a three-bedroom house near Oregon State with his wife, Susannah, her family and their eight-month-old daughter, Leimana, who at 35 pounds "is so big she can't crawl yet," he said.
Money comes into the home through a modest endorsement deal with Gatorade. But Stephen hasn't even bought a car. He pinches pennies by training at Oregon State, which also provides free meals from time to time.
[+] Enlarge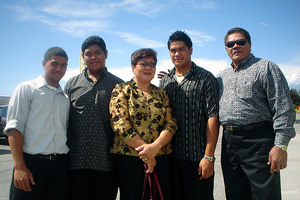 Courtesy of Paea familyThe Paea family from left to right: William, Pora, 'Ilaisaane, Stephen and Peniamina.
Virtually every dime the Paeas earn is redistributed throughout the family. The current NFL lockout only serves as the mechanism for a family's dreams deferred.
"It would be a dream come true [for Stephen to finally sign his contract], because it's like a struggle, you know," said Will, who tore his PCL and MCL playing safety at Foothill College (Stephen plans to pay for surgery with his first check). "Everybody's scattered trying to pitch in just to put bread on the table for everyone."
The perseverance of their parents, especially Ana, only strengthens the family's resolve to see things through.
"We're blessed to have parents like them. No matter how poor we were, they always believed," Will said. "A smile on our faces was like payment for their hard work. They'd rather have that than a million dollars."
Soon, the millions will come, too. Until then, they wait -- and work.
"From my own experience, it doesn't matter what you're doing if you do it right," Ana said. "There are a lot of blessings to be had when you're faithful and honest. I have very strong faith as a Christian, and I've tried to raise my kids according to my beliefs. Family life is not always a smooth ride, but so far, so good. It's hard, but we've handled it. Things are a little bit easier now, and we're looking forward to seeing Stephen play on Sundays. You can pick friends and almost everything else in this world, but God put us -- our family -- together. Every time I see them, it is the best time of my life."
Similar to the tradition of hiko for little girls in Tonga, Stephen juggles his real-life version by training and rehabilitation from a knee injury suffered at the Senior Bowl, in addition to focusing on the life of a husband, father, brother and son. He's promised to retire Ben and Ana and bring everyone together in America to a place the family can call its own.
Sometimes, Stephen reflects on how far he's come, almost simultaneously dreaming of journeys not yet taken.
"I've been thinking about a lot; especially the last couple of months, everything from Tonga to here," Stephen said. "I just envision my family in a nice house. Not just my family here now -- my daughter and my wife -- but my brothers, my siblings and my mom and dad. I just want them in a nice house with nice vehicles living what we call the American dream. To be able to retire both my parents, get my sister from Tonga to here and all of these things, it's gonna make me a happy a person. Then I'll be able to perform even better on the field. When the off-field issues are taken care of, I'm a monster on the field."
It's just a matter of time before the Midway finds out.
Michael C. Wright covers the Bears for ESPNChicago.com and ESPN 1000.